Shenzhen Qili Audio Application Co., Ltd. (qdc) is an innovative high-tech company based on one decade research technology for police and military communication devices of Shenzhen Qili Industrial Co., Ltd.(QDC). qdc also collaborates with an outstanding professional audio application website called Audiobar. We pay attention to the user's music listening experience. By cooperating with professional musicians, we strive to provide musicians and audiophiles with authentic and immersive music experience. As a professional high-tech enterprise integrating R&D, production and sales of audio products, we also pay attention to the hearing protection of users. Brother brand Shenzhen Qili Industrial Co., Ltd. (QDC) has been focusing on the military communications industry for more than ten years, which provides us with solid technical and resource support for the research and development of user hearing protection.
For professionals
More user-friendly professional sound experience
We invite professionals to tune and develop professional monitoring headphones for stages and studios. Not only does our headphones meet the requirements of sound for professionals, our product designers also fully refer to the opinions of professional musicians during the design process. We want to integrate the headphones into the environment where customers stay. Whether it's singing or hosting, vocals or musical instruments, the sound quality and reliability of qdc headphones enable qdc users to easily complete outstanding performance.
For audiophiles
Better music, better life
The R&D team of the qdc brand applies professional music headphones to daily life. Through the research, development and improvement of different series of products, we will provide our consumers with a rich selection of personalized sounds, and let music become your life posture icon. qdc headphones have uncompromising acoustic quality for music. qdc makes users experience the natural sound effects of the music scene anytime and anywhere in daily life.
At the same time, we rely on our own professional R&D and production team. We constantly experiment with new materials and new technologies to design more fashionable and distinctive headphones. Also, we want to make music lovers and earphone enthusiasts enjoy more stylish and personalized headphones.
User-oriented brand recognition not only injects fresh vitality into the brand, but also makes our products closer to consumers. Simultaneously, qdc users can also enjoy a more intimate, stylish, intelligent and high-tech experience.
Our belief is that everyone can listen to optimal music. Not only the professional headphones have been recognized by well-known singers, musicians, music variety show tutors, students, tuning teams, bands and other professionals, the consumer headphones are also the optimal choice for thousands of audiophiles!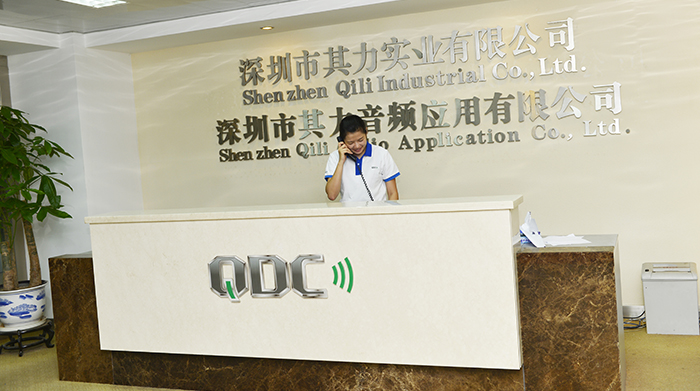 01

Our Capability

The company has a high-standard audio laboratory, an echoic room and a full range of B&K testing instruments, and has a professional R&D team composed of the best electroacoustics doctors among headphone companies.Relying on Qili Industrial's continuous research and exploration of communication products for more than 10 years and extensive cooperation with well-known domestic universities, the Chinese Academy of Sciences, and the Ministry of Public Security, qdc has a very mature professional R&D team and high-quality production process and all-round talent network.
02

Our Strengths

Audio applications have been accumulated in professional music networks for several years, and qdc has a mature and strong professional background from its inception. In the early stage of product development, qdc headphones invited many outstanding engineers, music producers and famous musicians to participate in tuning. Adhering to the professional attitude and knowledge, qdc headphones redefines domestic customized headphones and brings a real high-fidelity listening experience to users.
03

Our Products

• Sound:Our headphones have wide frequency response, small coloring, rich sound details, clear and delicate texture. The sound field is positioned accurately without losing the sense of envelopment, and the mid-to-high frequency resolution is high, but the sound is not overly decorated and colored. Coupled with the inherently excellent transient response of the armatures, the design pays equal attention to the sense of volume and the dive, and sound has better intermediate frequency density than the dynamic drivers, which expresses the music emotions. The sound brings as wide applicability as possible and provides an accurate basis for judgment.

• Wearing:The qdc headset is divided into the customized version and the universal version. The universal series are designed according to ergonomics so that the headphones fit the ear canal for most customers, showing the wearing comfort. Simultaneously, by combining with different sizes of silicone ear tips, users with different ear contours can comfortably wear the universal version. The customized version maximizes the sound insulation by customizing the shape of the user's ear canal in a comfortable wearing feeling. Our headphones also minimize the influence of the shape of the ear canal on the sound, and improve the low-frequency response, which has changed the shortcomings of the traditional small-unit headphones. The low-frequency of traditional small-unit headphones is thin.

• Personalization:Our headphones provide a customizable appearance and faceplates in material, pattern, text and color. Also, customers can customize the color of shells. Our headphones have unique wearing experience for anyone who intends to enjoy customized service.